A beard is the ultimate mark of manhood. For every man who keeps a beard, you definitely spend too long in the mirror looking at it. Is it getting a bit much on one side? Are those stray hairs getting overboard? Are the sides even? Do I need some color in it? And many more important questions. Our beard shape-up services at Solea beauty salon are here to ensure you're always pleased with the answers to these questions. We've got experienced beard groomers and trimmers ready to give your beard the luxurious attention it deserves.
Solea hair is the solution for every resident in Sunny Isles asking, "where to get a beard trim near me." Plus, we do it in style, using modern tech too. Our beard grooming services cover men's beard color sessions, regular trimming, treatment to encourage healthy beard growth, and a shape-up that'll leave you glowing all week long. Book a session with us to shape up your beard or add some color to it. The Solea Salon Beard Trimming Experience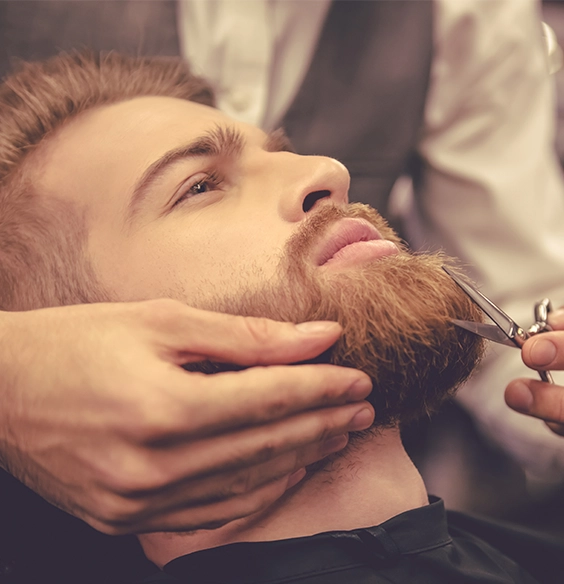 Solea Salon's answer to your "beard trimming near me" online searches is an experience steeped in luxury. Before any blades touch your beard, our first move is to customize your beard care session by determining your ideal beard shape. A beard shape up for round faces requires fuller beards to give the desired even proportions. Conversely, slimmer faces will need a streamlined beard shape. This consideration is crucial, especially if you're growing out your beard. It'll determine how to style your beard over time, whether it's a close shave, chinstrap, goatee, or full luscious beard style.
Our hair stylists start a shape up by trimming your beard with scissors. This deliberate step helps us achieve the perfect length and shape for your beard. Up next is using a geranium gel to sculpt and cleanse your beard to specification before following it up with a cleansing steam flow. Solea beauty salon's beard stylists and groomers will complete the beard shape-up by cleaning up stray hair around the cheek and necklines. We'll trim around the lips and also use precision trimmers for your nostrils.
Then, we'll end it with hot towels, a session under the cold blow dryer, a beard oil application, and some moisturizer. The end result is a full beard trimming, shape-up, and conditioning that leaves your beard luscious and glowing. Whether you're starting a new beard growth or looking to change your beard style, we can help you through the process. We also provide men's beard coloring services to disguise gray hairs or add a dramatic touch to your chin.
Men's Beard Colour: Feeling a Bit Grey?
With age comes wisdom and a little bit of gray in your beard. If this is you and you're looking for solutions, Solea beauty salon provides specialist beard coloring and coverage services. We use only the best beard coloring products. And our beard stylists are wizards with a brush. They'll apply the color to your beard disguised so it looks like your natural beard hair. You won't be able to tell the difference!
Some of our beard coloring clients want to make an impression with an extra dash of color in their beards. We've done everything from electric blue to silver streaks, blonde highlights, and tan-brown beard pockets.  And we can do it for you too! Our hair salon in Sunny Isles is the ideal spot to get a beard shape up, trimming, and beard coloring — all in one place by stylists you can trust!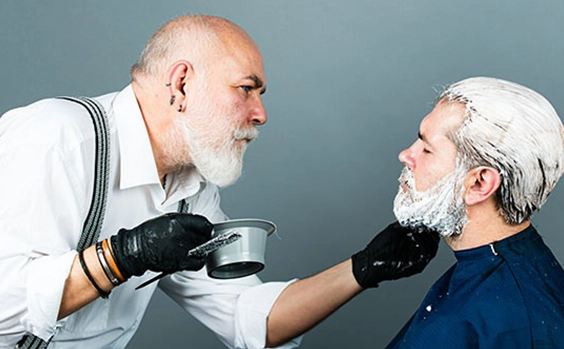 Frequently Asked Questions about Beard Trimming and Shape Up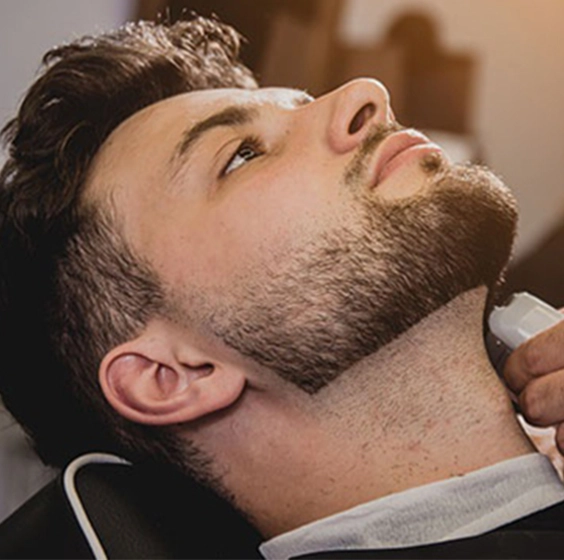 Book a session with us for your next beard trim, shape-up, or coloring. It's time for your beard to shine in all its glory.
Make An Appointment Today