Best Barbers and Stylists for Kids Haircuts in Sunny Isles
Children can be fussy during a barber's appointment. For some kids, it's the unease of a new environment and a strange fellow approaching them with scissors and clippers. You need a barber specializing in providing kids haircuts to handle this situation and still deliver a great cut. And that's what we offer at Solea beauty salon's haircuts for kids — plenty of experience working with children, making your kid smile, and top-level haircutting for young boys and girls.
Our kids' hairstylists understand the hoops to jump through to satisfy you and your toddlers. And we provide facilities to make haircuts a wonderful experience for your kids. This includes fancy car seats for kids, a Hollywood vanity mirror, Netflix, YouTube kids, and video games. The best part is the end, where we finish with balloons and a lollipop after the haircut.
Away from the luxury experience your kids will have, Solea beauty salon delivers first-class haircuts for boys and girls. Our barbers are highly trained in the latest haircut styles, including short and long hair. They also use clean, fresh scissors, clippers, and hair products. We are your best answer to the question of where to get "kids haircuts near me". Call Solea beauty salon today to book a haircut appointment for your kid, or walk into our shop today.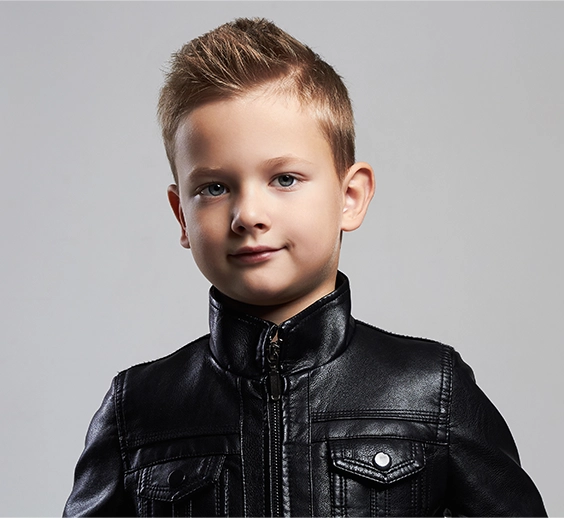 Time for Your Kids Haircuts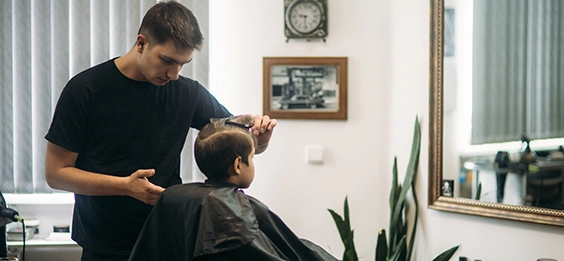 Our haircuts for kids extend to children with all hair types, including dreadlocks, Afro, and mixed-race hair. Patience from years of experience working with kids and their parents also allows us to deliver haircuts for children of all ages, including first haircuts and babies only a few days old.
You can make it a family outing and get a haircut while your kid is playing with any of our toys. If you want to cut or style your hair, our men's barber, hair stylists for women, and beard groomers are on hand.
Familiarity with the
Barber
Our haircuts for kids start with the assigned barber getting to know your child. High-fives and friendly jokes all around to help settle the tension. Our experience indicates this helps the barber develop trust with your child and removes any unease or anxiety.
If there's an older sibling in the picture, we may ask your younger child to watch them get a haircut. This level of familiarity can remove anxiety from the situation and make your kid's haircut smoother.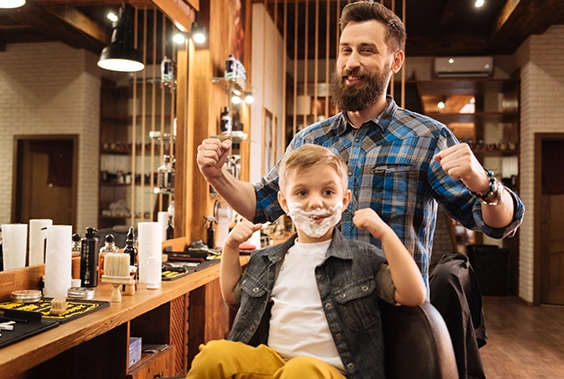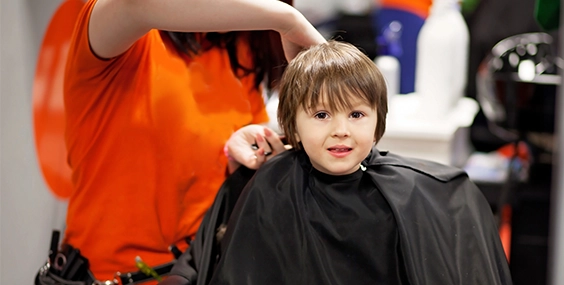 Toddlers and young kids have specific periods where they're in great moods and easier to please. We often encourage parents to book kids' haircuts during these time intervals.
For instance, your kid should get a haircut after nap time or first thing in the morning. This way, they aren't hungry, crabby, or tired when the haircut session starts.
Haircuts for kids go smoother with toys, books, and pacifiers. The more your child is buried in a book or playing with a toy, the lower the chances of a meltdown during their haircuts. Even if you have a no-screen policy, we recommend allowing your child to play with a kid's tablet during their haircut.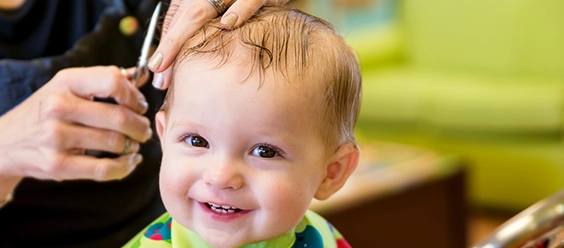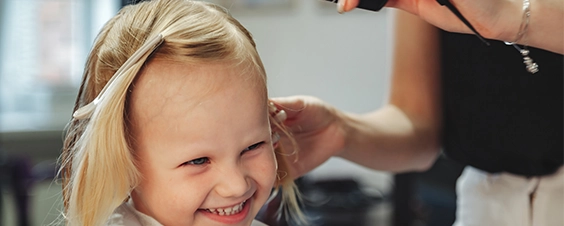 Sometimes, your child may want to avoid wearing the cape while getting their haircut. And that's okay. Our kids' barbers will still give them a great haircut. But you should bring a change of clothing for after the haircut.
Kid-Friendly Hair
Products
Our in-house team combines their expertise with recommendations from barbers to buy hair products for kids' haircuts. Sensitivity, natural products, fewer chemicals, and possible allergic reactions are factors we consider. You can rest assured your child will only be using the safest and best products.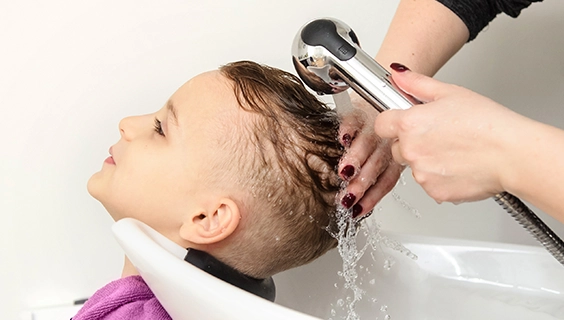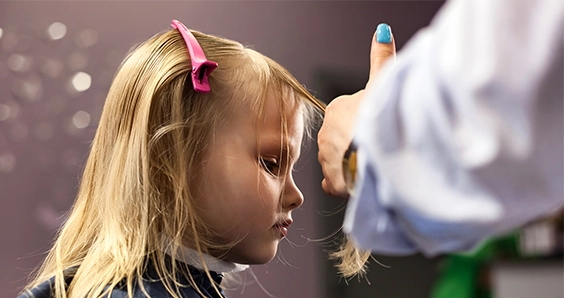 Delightful Treat
Offerings
Our kids barbers always promise children a treat if they're well-behaved during the haircut. We all know the powerful powers of persuasion a candy bar or jawbreaker can have on a kid. And we use that to the fullest to comfort your child and allow us to do what we do best — deliver great haircuts for boys and girls.
Book a Haircut for Your Kid with Solea Beauty Salon, Sunny Isles
At Solea beauty salon, we do everything possible to ensure we're the best answer to your "kids haircut near me" queries in Sunny Isles. Call us ahead if you've got a special request to help us be more accommodating of your kids. We look forward to seeing you and your kid soon!
Make An Appointment Today