Every woman knows a good week starts with a day in the salon. The feeling is even better when your new haircut is exactly what you want, done by expert hair stylists in a beautiful, serene environment.
Solea beauty salon has to put together a recipe to produce this feeling every time you get haircuts for women from us. Our key ingredients include a team of professionally trained hair stylists knowledgeable about the trendiest haircuts for women, a luxury salon outfitted with the latest haircuts and blow dry equipment, the best hair products, and a friendly staff team willing to go above and beyond to deliver a luxury experience.
Luxury Women's Hairсuts Salon in Sunny Isles
Beauty and confidence start with your hair. And we do it all. Our haircuts for women include short, layered styles designed to be stylish and low maintenance. Medium-length haircuts for women who want the best of both worlds, long layered hairstyles that reek of class and confidence, and blow dry treatments to bring out your hair's true bounce and luster. Our women's hair salon in Sunny Isles answers all your questions about where to get the best women's haircuts near me. Solea beauty salon provides trimming, hair cutting, coloring, and highlights. And with a long history of satisfying women like yourself, you can trust in our ability to give you a beautiful haircut that'll turn heads.
Our Prices:
Hair Trim – $65
Hair Trim & Blow Dry – $95
Hair Cut – $85-$100
Hair Cut & Blow Dry – $115
Bang Trimming – $15
Book a haircut at Sunny Isles' leading blow dry salon for all kinds of women's hair cutting and styling needs. Or walk into our hair salon today.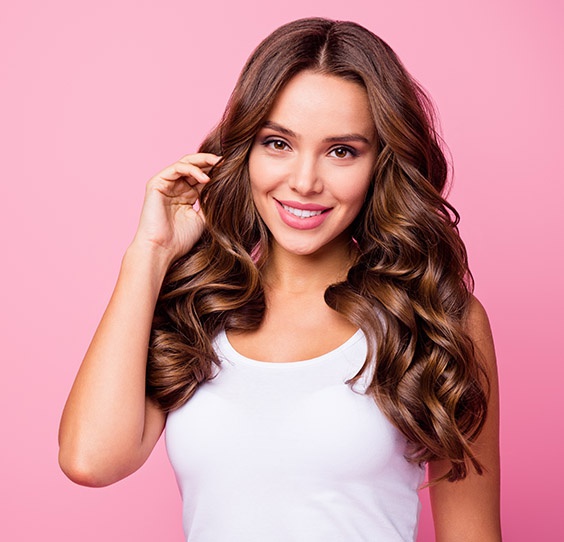 Long Length Haircuts for Women: Solea Beauty Salon's Top Picks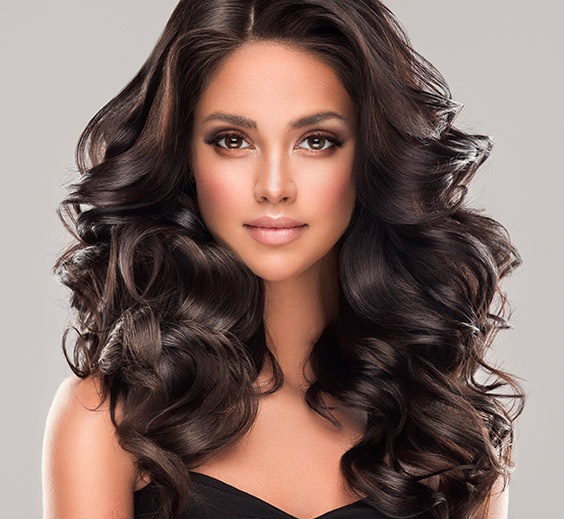 Bangs for Long-Length Hair
It all depends on the best look for your face shape. Bangs or fringe styles are always in fashion. And our experienced barbers and stylists can do so much more with them. Your bangs can be straight or long. We can lay it just above the eyebrows or set it smoothly in either direction.
Textured Layered Haircut
Skillful haircutting allows our stylists to create hair transitions with a distinct graduation. We may also trim thinner hair strands and blow dry your hair to create a thick, flowing look.
Classic Layered Haircut
Hugely popular haircut for women in Sunny Isles. Your hair will have smooth boundaries and no edgy outlines. It's a refreshing style that only needs maintenance every 8-10 weeks.
Asymmetrical Layered Haircut
We'll create an asymmetrical twist to layered haircuts for women using diagonal bangs and elongated front hair strands. Bangs can be customized to your preferred length and density.
Don't see what you like? Call Solea beauty salon to discuss long haircuts with our stylists.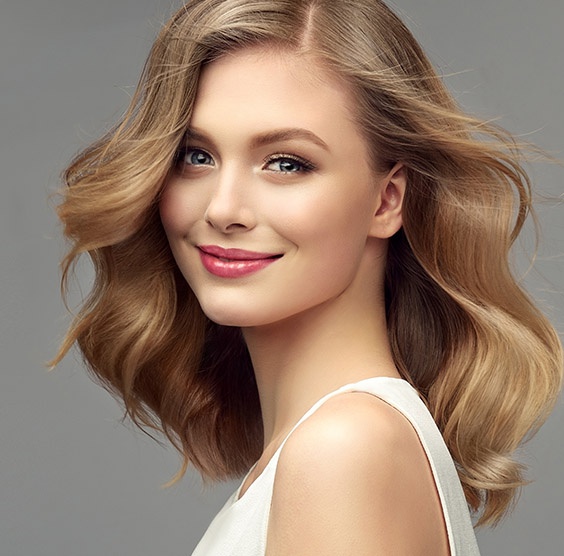 Best Short Haircuts for Women in Sunny Isles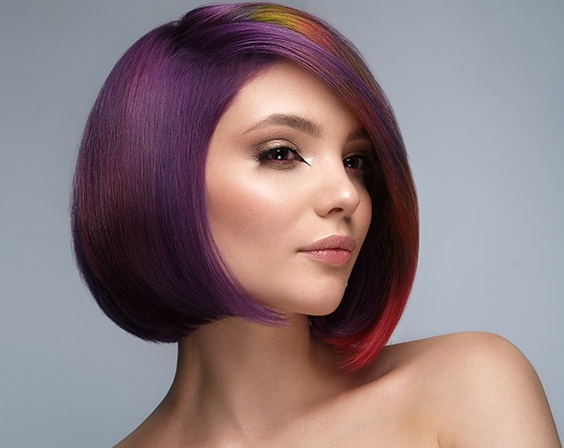 Mushroom Haircut
Best haircut for women in Sunny Isles with straight, thick, or thin hair. Our expert hair stylists can cut this with a blunt or asymmetrical style. You can also opt for a blow dry session to maintain the style.
Long Bangs Haircut
Whether you want to add a touch of edginess or embrace a chic and sophisticated style, our experts will ensure you leave our salon with a haircut that suits your unique personality and enhances your natural beauty.
Undercut Hairstyle
This hairstyle can help you manage hair bulk and maintenance, especially if you have long hair. Solea beauty salon's experienced hair stylists can also deliver ultra-short undercuts for a more dramatic effect.
Pixie Haircut
A pixie haircut is elegant and stylish when combined with a blow-dry session. It's great for all hair types and can help you look younger. Our stylists can combine the look with asymmetrical side bangs or textured bangs. You'll absolutely love it!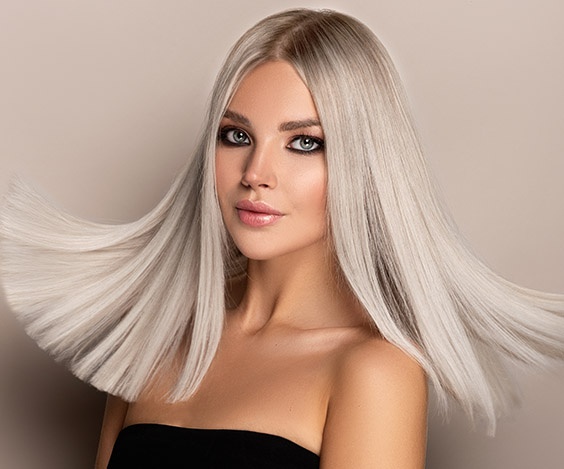 Haircuts and Blow Dry for Women: The Look in Your Head, On Your Head
The common frustration for women getting a haircut is spending all that time in the hair salon and not getting the results they want. This typically comes from a communication gap between clients and hair stylists. It's one of the problems we solve with our wholesome approach to women's haircuts and styling.
You're getting a friendly team of hair stylists that listen to you when you choose Solea beauty salon after searching online for "haircut places near me". We know how important haircuts for women are and take great pride in customizing looks according to specific client requests. What you ask for is what you get.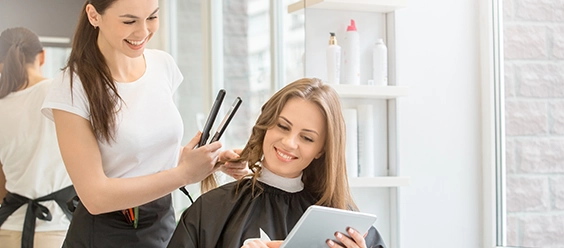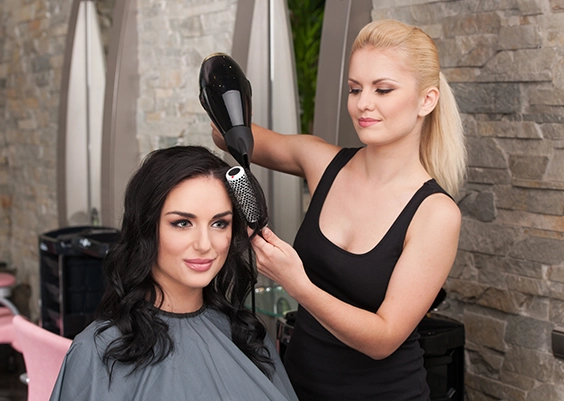 Our salon blow dry treatments are guaranteed to leave your hair soft, silky, and frizz-free. We use the latest hair dryer to apply directional hot air to your hair, leaving it bouncy with a sleek sheen and a texture that's near impossible to achieve with natural drying. Our blow-dry process is safe for all hair types, including straight, curly, Afro, and mixed hair types.
Plus, it adds so much more to your final look. Our blow-dry treatments for women's hair allow us to sculpt, smooth, and shine your new haircut to beautiful perfection.
Complete Haircut and Blow Dry
Experience
Haircuts for women at Solea beauty salon start with a consultation session where we pay attention to every detail. You'll sit in a tranquil, luxurious space with hair stylists to discuss your face shape, suitable styles, hair length, and color.
We also guarantee industry-leading haircut techniques and superior hair products rated among the best in America. It's not just a haircut; we promise to redefine your style.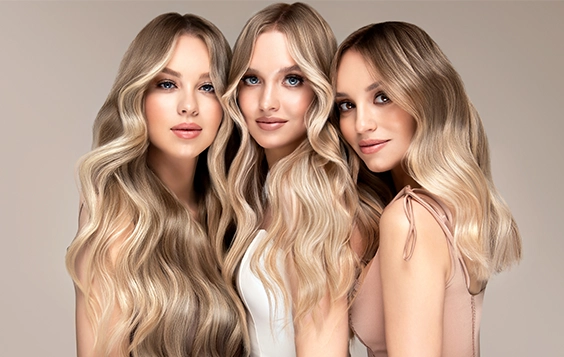 Walk into our haircut and blow dry salon in Sunny Isles or give us a call to book an appointment.
Make An Appointment Today